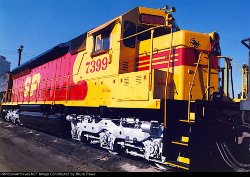 Welcome to the RRPictureArchives.NET contributor site of Bruce Flaws.

Here's a collection of pictures taken in the 1980s in the Truckee area, Sparks, Portola, and elsewhere in Northern California and Nevada. I started with a Mamiya Sekor SLR I bought in Fairbanks in the early 1970s, and eventually graduated to a Minolta Maxxum. I never pretended to be real photographer, but I do like trains, and mostly took these for the memories of the places, people, and times. I lived in the Sierra Valley for 20 years and worked in Truckee for most of that time. I spent many happy times in the Truckee yard office, bugging the Roadmaster (Charlie Drinnon) for EE timetables and just asking inane questions. I also spent much time at the WP yard in Portola, visiting the Operator (train orders were still used) and later joined the FRRS and loved working for Hap Manit there. I feel fortunate to have met these men, and to have visited these places, and now to have the opportunity to share these images here.


You may browse my collection of pictures via the menu located on the left hand side of the page. I hope you enjoy the collection and thanks for stopping by!
Note: This site is best viewed in Internet Explorer 6.0 or above.
Select one of the links from the menu on the left to begin browsing the collection.